Posted By Maya Popova on October 19, 2014 21:17
Western Journalism
REVEALED: Joe Biden's Cocaine-Using, Navy-Busted Son Now Working For Huge Ukraine Company
…discharged from the Navy Reserve in February of 2014…
---
Norvell Rose
—
October 17, 2014
Within weeks of being kicked out of the Navy Reserve after testing positive for cocaine use, Vice President Joe Biden's son, Hunter, was appointed to the board of directors of the largest non-governmental gas producer in war-torn Ukraine.
Only now has it been revealed that Robert Hunter Biden, the vice president's second son, was discharged from the Navy Reserve in February of 2014. Less than a year earlier, he had applied for and was accepted into a Navy program that allows civilians with no prior service to receive a limited duty officer's commission.
Citing sources familiar with Biden's situation, the Wall Street Journal reports:
Mr. Biden was commissioned as an ensign on May 7, 2013, and assigned to Navy Public Affairs Support Element East in Norfolk, Va., a reserve unit, according to the Navy.

In June 2013, after reporting to his unit in Norfolk, he was given a drug test, which turned up positive for cocaine, according to people familiar with the situation. Mr. Biden was discharged in February, the Navy said.
Following reports of his discharge for drug use, Hunter Biden, who is a lawyer by training, acknowledged the news accounts are true.
What makes the Biden "bust" especially interesting, though, is the fact that the vice president's son, who graduated from Yale Law School, was made a member of the board of directors of a huge Ukrainian company shortly after being kicked out of the U.S. Navy Reserve.
As noted in Hunter Biden's Wikipedia profile:
---
Advertisement-content continues below
---
On April 18, 2014, Burisma Holdings announced Biden's appointment to the board of directors in a press release. Burisma is the largest non-governmental gas producer in the Ukraine, it was incorporated in 2006 and is based in Limassol, Cyprus – a European tax haven.
The Wall Street Journal, which broke the Biden story, says that the appointment of the VP's son to the board of the giant gas producer in the nation now in fierce conflict with Russia raised a few eyebrows:
…he joined the board of the Ukrainian gas producer, Burisma Holdings Ltd., which is controlled by a former security and energy official for Ukraine's ousted former president.

The announcement that Mr. Biden would be responsible for Burisma's legal unit raised concerns about potential conflicts of interest, because his father, the vice president, was engaged in diplomatic efforts involving Ukraine.
The controversy over Hunter Biden's Burisma position was further explored in an article on time.com:
…the company, Burisma Holdings, did not disclose at the time the scope of their plans for influencing the U.S. government.

Recently released documents show that Biden's hiring coincided with the launch of a new effort to lobby members of Congress about the role of the company in Ukraine and the country's quest for energy independence.
There's no indication in the recent reporting about Hunter Biden's cocaine-related discharge that his drug use led to any sort of investigation by law enforcement.
Read more at http://www.westernjournalism.com/revealed-joe-bidens-cocaine-using-navy-busted-son-now-working-huge-ukraine-company/#c9WlRwXiJ2mztEFm.99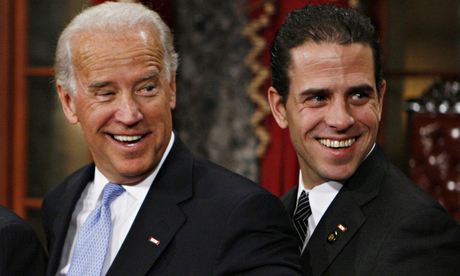 Hunter Biden, with his father, US vice-president Joe Biden. Photograph: Charles Dharapak/Associated Press
Name: Hunter Biden.
Age: 44.
Appearance: Chip off the old block.
His names rings a bell. Is he related to someone famous? He's the son of Joe Biden, the US vice president.
What is he, sort of a wayward, ne'er-do-well playboy type? Not really. He's a graduate of Yale Law School and a former senior vice-president at MBNA America Bank.
Good for him. During the Clinton administration he worked in the US Department of Commerce. He's presently a partner in an investment firm. And counsel for a national law firm. And an adjunct professor at Georgetown University.
I get it: he likes to keep busy. He has even found the time to join the board of a gas company called Burisma Holdings Ltd.
Never heard of it. Perhaps that's because it's a Ukrainian gas company; Ukraine's largest private gas producer, in fact. He's taking charge of the company's legal unit.
Isn't that a bit fishy? Why do you say that?
Because he's the vice-president's son! That's a coincidence. "This is totally based on merit," said Burisma's chairman, Alan Apter.
He doesn't sound very Ukrainian. He's American, as is the other new board member, Devon Archer.
Who? Devon Archer, who works with Hunter Biden at Rosemont Seneca partners, which is half owned by Rosemont Capital, a private equity firm founded by Archer and Christopher Heinz.
Who? Christopher Heinz … John Kerry's stepson.
I think Putin's propaganda people can take a long weekend; their work is being done for them. What do you mean?
Hasn't Joe Biden pledged to help Ukraine become more energy independent in the wake of its troubles with Russia? Well, yes.
And isn't Burisma, as a domestic producer, well positioned to profit from rising gas prices caused by the conflict? Possibly, but Hunter Biden is a salaried board member, not an investor. According to anonymous sources in the Wall Street Journal, neither Rosemont Seneca nor Rosemont Capital has made any financial investment in Burisma.
So it's not fishy at all? No one's saying that.
Do say: "Somebody needs to get involved in Ukraine's corporate governance, and it might as well be a clutch of rich, well-connected American dudes with weird first names."
Don't say: "Thanks, Dad."
14.05.2014 г. – Hunter Biden, with his father, US vice president Joe Biden. … Hasn't Joe Biden pledged to help Ukraine become more energy independent in …